Incredible Christmas Party Options
Want to have a holly, jolly good time this Christmas season? Try one of our festive ideas to set your holiday fete apart from the rest! We have more options not listed here.
Offers like these don't happen often.
Call today to book!
604-835-7242 or 250-801-3934
Altimate Club Wine Tours has different party Options to choose from.
– Light up the Vines
– Christmas at Big White
– End of Workday Spirit Christmas Brunch or Lunch
– Christmas Dinner at a Winery
– Mastery Wine Tasting with Appie
– The Ugly Christmas Sweater Party
– A Christmas Masquerade Ball
– Nightmare Before Christmas Party
– Winter Wonderland Christmas Party
– Santa's Workshop Christmas Party
– Christmas Around the World Christmas Party
– Christmas Murder Mystery Christmas Party
**Bonus: Planning Tips For Your Office Christmas Party**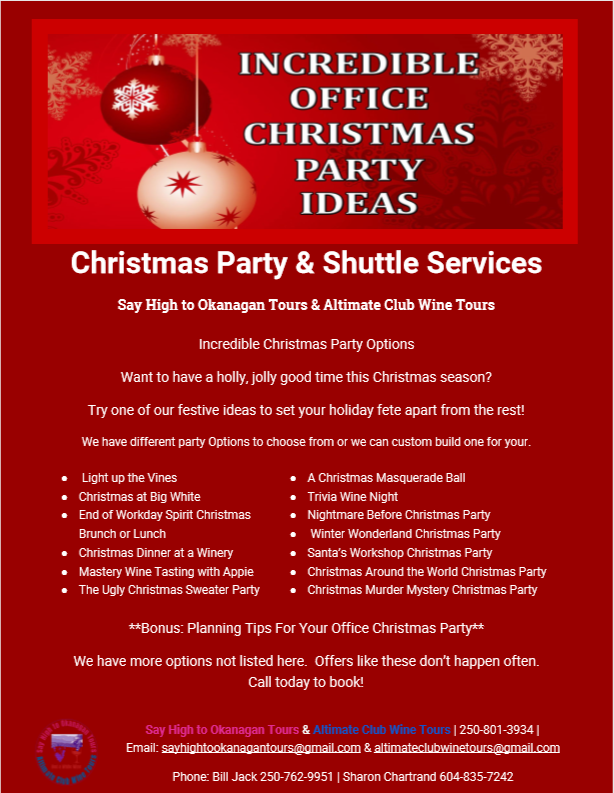 PS. please note Bill Jack  contact is no longer available. regards.
Please Note: 250-762-9951 is not associated with Altimate Club Wine Tours and does not represent us or our affiliate companies.